Kundalini Reiki Level 1 & Intuitive
Healing Online Training
with Katie Emmitt, Kundalini Reiki Master & Psychic Advisor
Katie is such a knowledgable, gentle teacher. The handbook is incredibly detailed, and her teaching style is ideal for anyone that needs visual/physical demonstration in addition to written material. No questions were left unanswered, and I left the Level 1 class feeling both prepared and fully supported for my Reiki journey to come.
Lindsey G.
What's Included in This Course:
A 37-Page Level 1 E-Handbook
A 4 Hour Online Group Classroom Video Conference Call Conducted over Zoom
A 1:1 or 1:2 35-Minute Online Attunement Video Call Conducted over Zoom
A 1:1 60-Minute Follow-Up Meeting the Following Week (Scheduled at Your Convenience)
An E-Mailed Certificate of Completion for Kundalini Reiki Level 1
Small Class Size of 6 Individuals
Lifetime Access to Your Instructor via E-Mail for Guidance, Help, or Advice
BONUS MATERIAL: Students will also receive a PDF to guide them on best practices for their 21-Day Integration Period after their Level 1 Attunement, along with several guided meditations for practicing daily self-healing.
BONUS MATERIAL: Students of all levels will also receive a 'Practice Guide' PDF with links & guidance on music selections, massage tables, and much more to help them get started with setting up their own Reiki practice.
What's Included in the Handbook?
The History of Reiki & Kundalini Reiki Healing
An Explanation of Reiki Attunements & Our Process
Legal Information about Conducting Reiki Healing & Opening a Business
Information about the Human Biofield, Aura, Basic Anatomy, the Chakra System, Reiki Symbols, and the Hollow-Body Theory
Step-by-Step Guidance for Starting a Session, Calling in Energy, How to Conduct a Quick Healing, Hand Placements, Ending a Session, Energetic Hygiene, and Scanning the Energetic Body for Disturbances
Information On Working Intuitively & Developing Your Clairs
Guidance for Clearing Energy in a Room, Giving Reiki to Plants, Animals, Food, and Crystals
What Will We Go Over During the Online Classroom?
During class, we will begin with a meditation, and start to experiment and play with subtle energies. Afterward, we will briefly discuss all topics in the handbook, and there will be ample time for discussion and for questions to be answered. After a break, we will do a guided practice on giving yourself a healing session, and I will be giving a demo on how to conduct a session on a friend, family member, or client. There will be several breaks, meditations, demos, and practice time built into class.
In order to complete the course and receive their Kundalini Reiki Level 1 Certificate, students must do the following:
Read the Handbook in its Entirety
Attend the Entirety of the Scheduled Online Class and be a Present and Attentive Student
Attend Their 40 Minute Scheduled 1:2 Attunement
Attend their 1:1 60-Minute Follow Up Appointment & Be Able to Demonstrate their Knowledge of the Energy Systems in the Body, How to Conduct a Session on Themselves and Others, and Easily Discuss the Ethics of a Safe Practice (all topics covered in the handbook and during class. I will be prompting each student with questions to be sure they have retained the information and can properly demonstrate the learned information).
Yes! If none of the upcoming group dates work for you, are sold out, (or you just prefer a 1:1 environment) – please reach out! You will receive the same exact training, e-handbook, attunement, and follow up, just on a complete 1:1 basis. I am happy to work with you to create a training schedule that is perfectly suited to your lifestyle.
The cost for individual distance Kundalini Reiki Level 1 Online Training is $255 – payment plans are available too. Please check out the "How to Register' tab below.
Kundalini Reiki Level 1 Online Training & Attunement Upcoming Class Dates
January 30th – SOLD OUT

February 20th – 4 Spaces Left
Send your payment of $175 with PayPal or Venmo using the buttons below. In the notes section, you MUST leave your most actively checked e-mail address and the date of the class you are registering for. Once I receive payment, I will be e-mailing you your e-handbook. You will also receive Zoom call invites, notifications, and your Reiki Certificate to this e-mail address!
If you are in need of a payment plan, please e-mail me directly at katiemmitt@gmail.com to notify me and work out a schedule. You are welcome to pay in four installments of $45, or to pay a $75 deposit and the remaining balance in full any time before class.
There is a partial scholarship of $85 available for a BIWOC for each training. Please e-mail me (katiemmitt@gmail.com) if you are interested in this!
Soon I will be taking registrations & payment directly on this website! Stay Tuned. Please e-mail me if you have any questions, concerns, or inquiries about the online Kundalini Reiki Level 1 Attunement Courses!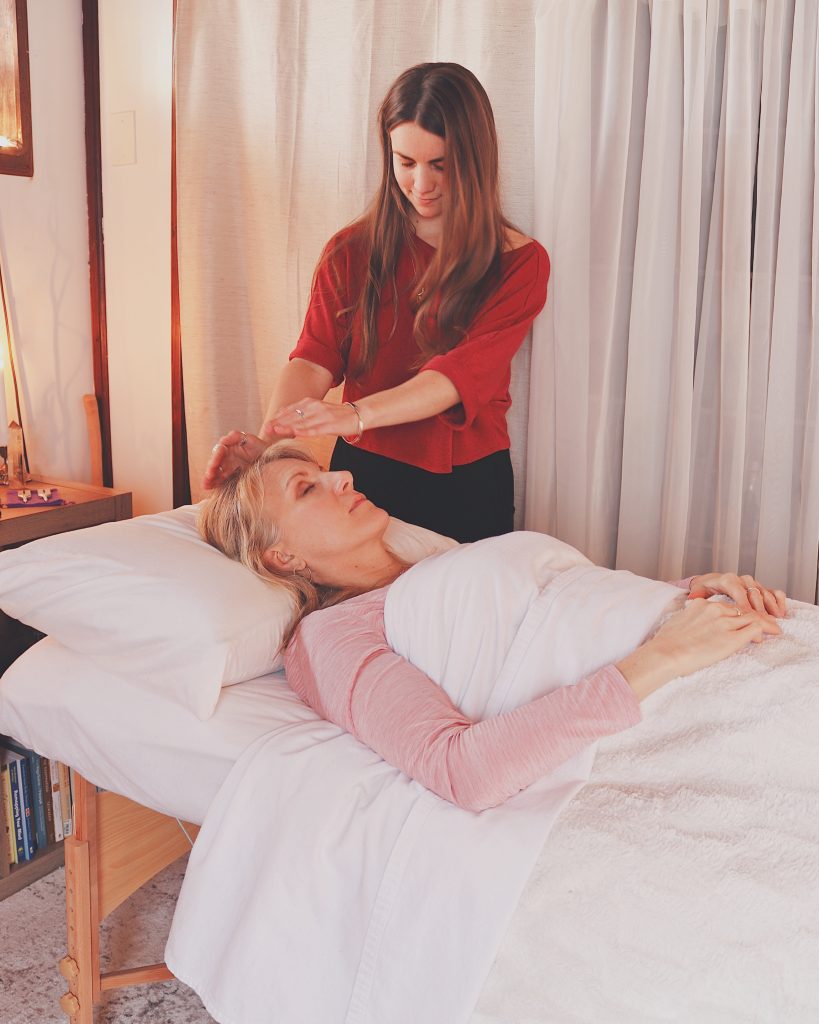 FAQ
Why I'm Offering An Online Attunement
Truthfully, I am absolutely thrilled to offer an online training course like this because when I was searching for online reiki attunements, I was displeased with the way they were offered. I saw a lot of $20 courses that offered a distance attunement where you never actually got to interact with your instructor, and were just supposed to accept that you had received the attunement. I didn't see many offerings where there was a real Online Classroom, in real time, with an instructor, or a real-time video chat attunement, or additional follow-up meetings to make sure their students had retained the information and could demonstrate it! I wanted to change that. Especially for people who aren't near any major cities and who may not have access to Reiki attunements locally!
Other Benefits of an Online Attunement:
Complete the course in the comfort of your own home – anywhere in the world – with an experienced instructor!
Flexibility with your follow-up appointment – No need to devote an entire weekend to the course.
Flexible window for your attunement.
Receive your handbook as soon as you register, to read on your own time at your own pace.
Create a comfortable space in your own home to fully relax and get the most out of your attunement and class.
With these Online Trainings & Attunements, my goal is to offer the most thorough and comprehensive package available online. I want my students to feel confident and knowledgable as Kundalini Reiki Practitioners. I want them to be armed with knowledge of running a practice (should they choose to do so), how to practice responsibly and ethically, and how to keep themselves healthy and safe while doing energy work on others. My courses teach Kundalini Reiki with a slight blend of Usui Reiki practices, with an emphasis on intuition, knowledge of the energetic system, and practical application. My goal is to have each student finish my courses feeling confident, knowledgable, and ready to begin a safe and responsible practice.
What is Kundalini Reiki? Why do You Teach This Type of Energy Work?
There are many different types of Reiki, with Usui Reiki being the most popular. Kundalini Reiki uses a blend of Kundalini Energy and Reiki Energy, so it has an enormous potential for healing.
To learn more about Kundalini Energy, click here.
To learn more about the history of Kundalini Reiki, click here.
Kundalini Reiki is very intuitive and free flowing. It has less structure than typical Usui Reiki practiced today (similar to how Dr. Usui intended for Reiki Healing to be), and is based on intention and intuition. I personally love Kundalini Reiki because it is simple, easy to learn, and brings us closer to our own Kundalini Life Force Energy!
What is Level 1 Good For? Who Should Take this Class? Do I Need Any Experience?
This Kundalini Reiki Level 1 Online Training & Attunement course is appropriate for all ages, backgrounds, and experience levels. Level One teaches you primarily how to practice energy healing on yourself. If you are interested in self-care, self healing, reducing anxiety, increasing your intuitive abilities, or even helping yourself mange being an empath, this class is for you! It is also great if you are looking to learn how to practice energy work on your friends and family members, or would like to have a practice in the future (If you wish to have a practice, I highly recommend also signing up for Level 2 and 3).
Many of my Reiki students simply want to learn how to heal themselves and learn more tools to have in their self-care toolbox. Many of my students are empaths, are healing past trauma, or have simply enjoyed receiving reiki and would like to be able to practice it on themselves! I also have students who work with animals, are massage therapists, nurses, or work in health care who are hoping to incorporate energy work into their practices.
You do not have to have any experience or 'special abilities' to practice this type of energy healing! I firmly believe that absolutely everyone can (and should!) practice energy work.
What is Zoom? Do I Need to Download Anything?
Zoom is a website/software that hosts video meetings, conference calls, webinars, and chats. You do not need to download anything. I will simply send a URL link to you via e-mail, and when you click on the link, the video call will open in your browser. You can learn more about zoom at http://www.zoom.us
What Level 1 Students are Saying:
Thanks again for such a wonderful experience in class yesterday. You're such a gentle and guiding teacher and I appreciate the intention & time you take!
A.S.P.
Your class was really well done! You organized it in such a way that was. really informative and welcoming. Thanks again!!
C.R.C.